About Doumak
Doumak is The Marshmallow Company. And we are proud to say, we have earned the name!
We began our marshmallow-making journey in 1921, producing cast mold marshmallows in Los Angeles, California and since then, we've only produced only one product, MARSHMALLOWS!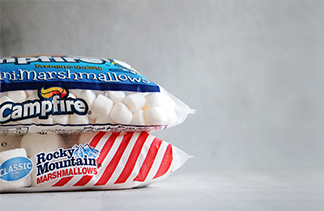 In 1954, our founder's son Alex Doumakes invented and patented the extrusion process of manufacturing marshmallows, a breakthrough innovation that allowed the marshmallows to be mass produced in a cost-efficient manner. Marshmallows went from being an expensive confection to an everyday sweet treat and favorite ingredient for many recipes. And to that, we say, "You're welcome!"
At Doumak, our focus is on quality, service and value, and we pride ourselves on producing the best quality and freshest marshmallow in the world. In 1961, the Doumakes family moved the company to its current location outside Chicago, Illinois. Today, we continue to operate as a family owned business. Though our Campfire® and Rocky Mountain™ brands are world famous, all of our products are made in the USA.